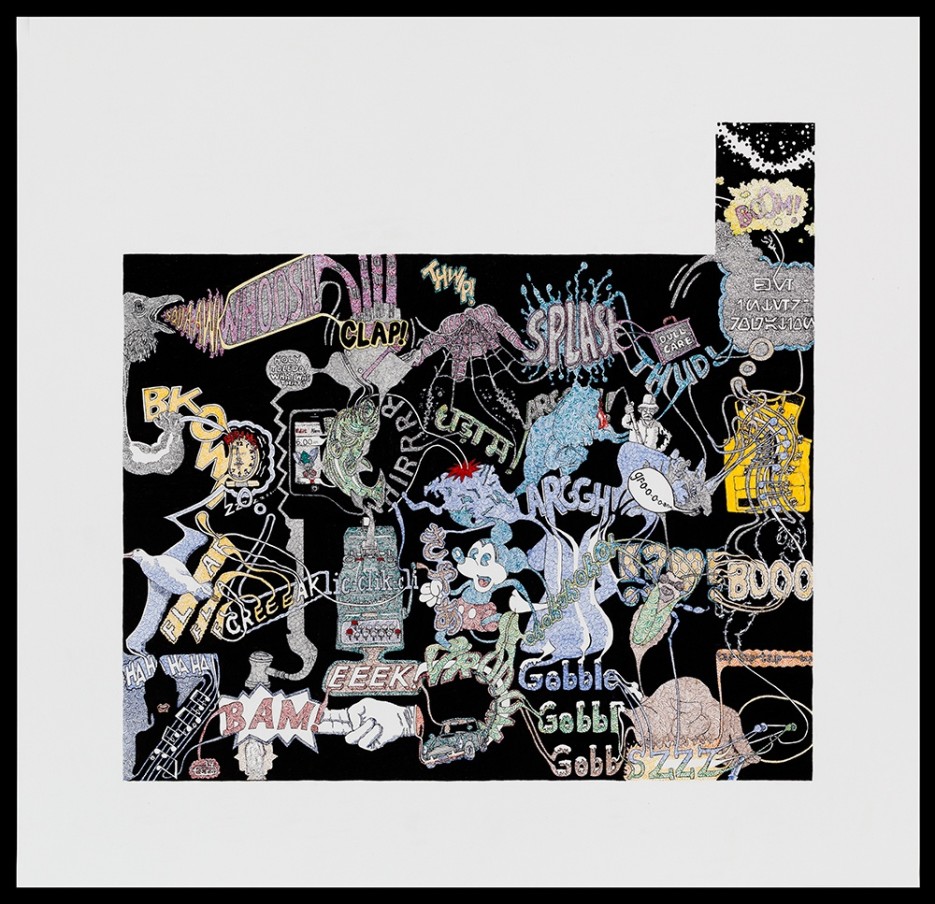 Making History: Case Histories, November 2014: Charles Lindsay
,
2014
Pen and ink on Bristol board
41.9 x 43.5 cm
16 1/2 x 17 1/8 in
Information: Martin Wilner (b. New York, USA, 1959) began making art in the 1990's after previously studying medicine and being a practicing psychoanalyst. As both an artist and a psychiatrist by training, Wilner uses imagery to locate the unconscious elements in language and life, his practice posing profound questions about the creative process, collaboration and the imagination. He lives and works in New York. Making History is a time-based project initiated in January of 2002 that utilizes the convention of the Roman calendar to telegraph the notion of the passage of time over the course of each month. Wilner selects a daily subject of interest to him from a variety of media sources and visualizes them each day as a drawing that would coalesce into a completed work by the end of each month. Elements of cartoon, cartography, text, micrography, and music have evolved into essential aspects of his creative vocabulary. On the verso of each drawing are descriptive texts or images that are integral to the work. Upon completion of a decade of this project in 2012, Wilner elected to push the creative envelope of this parameter-based body of work by inviting individuals familiar with his work to correspond with him daily for a month-long period and send him messages describing what they found of compelling interest to them on each day of their assigned month. He would then visualize each correspondence daily to produce the composite work by month's end. 'I was drawn to the idea of collaboration […] and so I've been inviting people to correspond with me, asking them to send me what's on their mind, what's compelling to them, each and every day for a month. And I do a drawing on each day—a visualization based on that experience. Over the course of the month it coalesces into a kind of portrait of the subject over time.' (quotation from 'Artists in Conversation' with Francis Levy, BOMB 130, Winter 2015). Charles Lindsay (November): Charles Lindsay is a multi-disciplinary artist whose work synthesises ideas about technology, eco-systems, semiotics and signalling. Lindsay creates immersive environments, sound installations, sculptures built from salvaged aerospace and bio-tech equipment. He recently partnered with the Chinese artist Shaoyu Su to realize "WIND TUNNEL: the Hongshan Experiment" which debuted at the Today Art Museum in Beijing. Educated as an exploration geologist, Lindsay is the SETI Institute's AIR Program Director, a Guggenheim Fellow, recipient of the Robert Rauschenberg Residency, Fellow at the Nevada Museum of Art's Center for Art and Environment, and the innovator behind OSA EARS - a project designed to deliver real-time high-resolution sound and data from one of the world's most bio-diverse eco-systems to anyone anywhere. Lindsay and Martin Wilner were introduced through SETI, for which Wilner was selected as a SETI Institute Artist in Residence for the period of 2015/16.